Promote your business to thousands of Seattle area residents and visitors this summer!
While 2021 is a little different, and GreenStage's free outdoor season is smaller than usual, we still anticipate having an audience of over 7,000 area residents and visitors. We have 40 performances scheduled that will tour to Seattle, Fall City, and Normandy Park.
The deadline for payment and artwork is Fri, June 14, 2021
If you have questions about advertising, please contact Ken Holmes through the contact form,or follow the instructions below to order online.
Art must be submitted electronically.
Download a PDF of this information
Ad rates and sizes
New lower prices!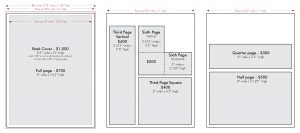 Back Cover $1,000 

$600

8.5" wide x 11" high. Add .125" to art in all directions for bleed, no text within .25" of page edge.

Full page $700

 

$450

Half page (horizontal) $500

 

$350

Third page  $400

 

$300

2.375" wide x 9.5" high
5" wide x 4.5" high

Quarter page (horizontal) $300

 

$200

Sixth page   $200

 

$150

2.375" wide x 4.5" high
5" wide x 2.125" high
The program
GreenStage will be printing 3,000 full color, 16-20 page, glossy magazine style programs to distribute to our summer audiences. Total expected attendance for 2021 is 7,000 people. Many couples and families share programs. increased visibility for your ad! Our full color publication adds increased value to your ad. The upscale look and feel makes it more likely to be taken home by patrons. This gives your ad longer life and increased visibility.
HOW TO PLACE YOUR AD ORDER
Step 1. 
Pay for your ad  –  https://squareup.com/store/greenstage 
Link will redirect you to our payment partner, Square.
Step 2.
Submit your art
Fill out the form below to send us your ad. Or contact Ken Holmes to arrange for delivery