Do I need to make reservations or get tickets?
No tickets or reservations are required, just show up, sit down. and watch the show. To be sure of getting a good spot on the grass, we recommend arriving at least 30 minutes early.
---
How do we locate you in the parks?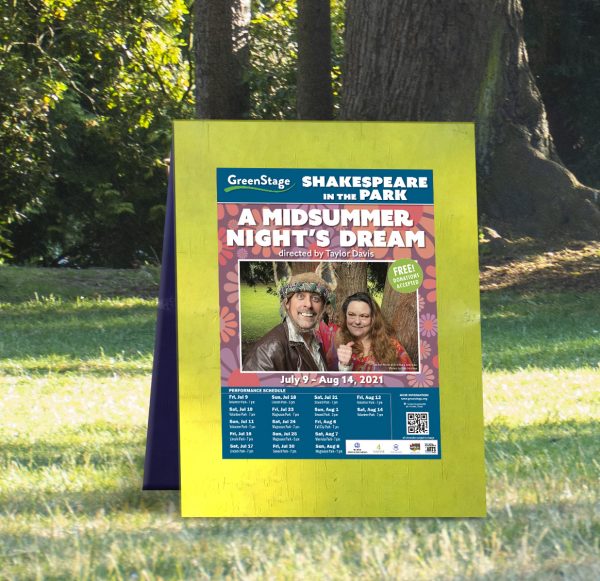 Our Performance Spaces page has links to info for each parks. To find us once you are at the park, look for and follow our yellow signs to the stage!
---
Should we bring our own chairs?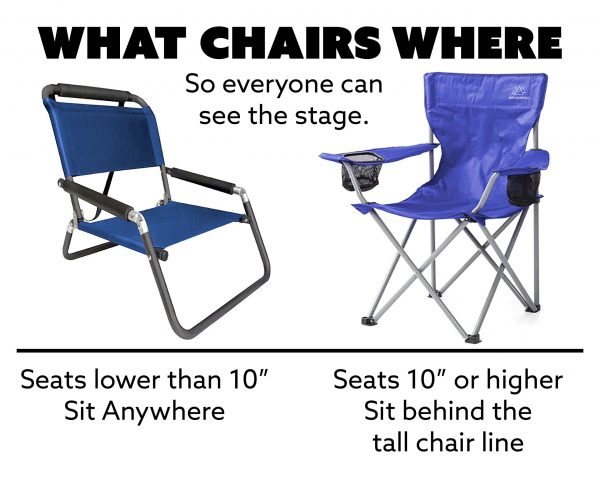 We perform mainly on the grass in public parks. Very few of our venues have any seating at all. It's best to bring a blanket or a low chair. Patrons whose chairs with seats higher than 10″ will be asked to sit toward the back so as not to block the view of those on the ground. Just look for the yellow sign board showing where the "tall chair line" is Please see our House Manager at the performance if you have questions.
---
Can we bring a picnic?
YES, we encourage you to bring a picnic lunch, dinner, or snack. All we ask is that you pack your leftovers and garbage out when you leave the park.
---
What about dogs?
Well behaved dogs are generally welcome, however we ask you go follow some simple rules. Dogs should be leashed and with owners at all times… don't leave them alone on your blanket while you take a trip to the restroom for example. If your pup is easily startled by large groups of people, or by actors randomly wandering through the crowd, it might be best to leave them at home. If your dog does become agitated, or begins barking or growling, please remove them from the seating area so as not to disturb or frighten other playgoers.
---
Are the plays appropriate for children?
We try to make our shows as family friendly as possible. Keep in mind that many of Shakespeare's plays contain bawdy humor, sexual innuendo, and violence. Different people have different perceptions of what may or may not be appropriate, and that is completely out of our control. Most times, the naughty bits go right over the kid's heads. If you have concerns, or are unfamiliar with a play you are interested in seeing, we suggest reading it ahead of time.
---
What's the weather generally like?
In the Seattle area, you never know what the weather will bring. When planning your trip, plan for all types of weather. Bring sun block and drinking water for hot days, and jackets or blankets for the cool evenings. You might also want to include some mosquito repellant for evening shows as well, especially for shows near the water. Umbrellas or rain gear for rain shows. If you use an umbrella, please be considerate of those around you.
---
What if it rains?
Our general rule is that if an audience is willing to sit in the rain, we are willing to give them a show. This of course depends on just how wet it gets, and how much of an audience there is. We will cancel the show in the case of lightning.
---
Do you cancel when there is wildfire smoke or high temperatures?
With the increase in high temps and wildfires due to climate change, there is always a chance of smoky or hot days. For SMOKE, please see www.airnow.gov to check air quality index. We will likely cancel shows if the AQI is above 150.(unhealthy).  For HOT DAYS, we generally perform unless we reach temps are in the high 90s or above 100°F, and have no access to a shady spot in the park.
Since shady areas on parks differ, and since the winds can change rapidly, we don't cancel performances due to rain, smoke, or heat, until just before showtime. At that time we will post notices on social media and here on our website.
---
Do you accept donations?
ABSOLUTELY! If you enjoy what we do, we invite you to make a donation. No member of our audience is ever required to donate, but anything you can afford to give is greatly appreciated and helps to fund our programs. If you are unable to donate at this time, consider donating your time—volunteers are always welcome.
---
What about COVID? Are you making any changes?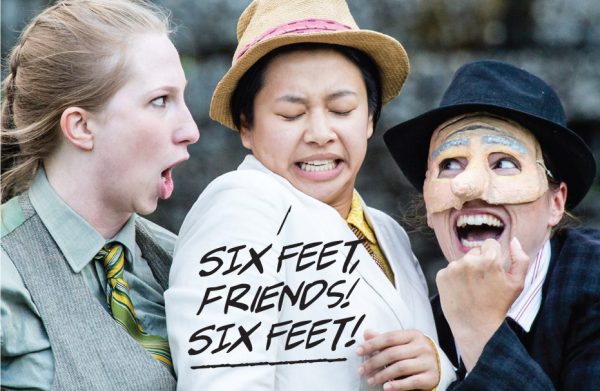 While the worst of COVID seems to be behind us, we are still asking patrons to respect distancing and be thoughtful of their neighbors. We have added amplification at all venues to make sure that everyone can still hear the play.
Pictured: Emily Huntingford, Rhys Daly, and Jordan Kerbs. Photo by Jennifer Crooks.
---
What's is GreenStage's mission?
GreenStage's mission is to foster an appreciation of live theater by eliminating financial and geographical barriers that impede access to the arts.
Our productions are free, fun, and family oriented. We believe in presenting Shakespeare's plays simply, focusing on the text, story, characters and relationships in the play.