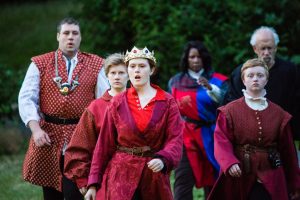 We're down to the last two weeks of our 2019 season, our 31st summer of doing FREE Shakespeare in the Park!
This week we'll have four performances at Lincoln Park, two at Lynndale Park, plus shows in Burien, Fall City, and Cowen Park. There's special programming on Sunday, August 11: The cast of Henry IV, part 2 will do a chat with the audience after the 3 p.m. performance at Discovery Park, and the Backyard Bard gang will have a double feature of The Merry Wives of Windsor at 3 p.m. followed by Measure For Measure at 4:15.
We received a lovely email this week from a happy audience member. A kind fan named Mira wrote: "I enjoyed (and profoundly admired) your Taming of the Shrew," noting that she was about to see it for the third time. "I often find it painful to watch the ending and [Kate] succumbing to Petruchio's might. Well, your production made it all well. I looove the way she ends up the wiser…What a privilege to have this fantastic experience!"
Shrew is cast with all women actors and set in the midst of the suffrage movement. Don't miss it!
The week kicks off with Henry IV, part 2 at Lynndale Park this evening. Check our season calendar to plan your FREE Shakespeare in the Park viewing for the next couple of weeks.
Go see a play!