Four actors will bring all the laughter, all the adventure, and all the magic of The Merry Wives of Windsor and Measure for Measure to smaller parks in the greater Seattle area this summer.  Backyard Bard performs shorter Shakespeare in the Park for smaller spaces; two one-hour productions performed by the same four actors.
Backyard Bard presents two stripped-down productions of Shakespeare's plays, each cut to one hour long, and both performed by the same four versatile actors.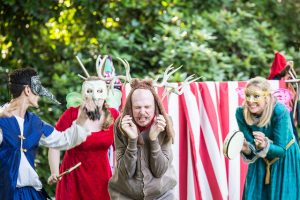 The Merry Wives of Windsor
Falstaff is experiencing an economic downturn. What better way to refill his empty purse than to woo two wealthy married women he's only just met? What could possibly go laughably, horribly wrong for this beloved, famous knight? Discover the heights to which a noble suitor will pretend to aspire, and the depths to which he'll also sink, just to win the hearts and coffers of women much, much smarter than he.
Measure for Measure
"To whom should I complain?"
Vienna has become a corrupt city – in large part due to its lenient leader, Duke Vincentio – so he steps away leaving his puritanical deputy, Angelo, in charge. Angelo soon sets to bring the city to heel through ancient, outdated, and inflexible laws. Against this backdrop of an authoritarian government, a young novice nun, Isabella, comes to plead to save her
brother from execution. Angelo offers to spare her brother's life, but only in return for sex. When she threatens to speak out, she is reminded that his power will outweigh her truth.
Though Shakespeare wrote Measure for Measure in the early 1600s, the play remains astonishingly resonant today.
Since 2008, GreenStage has offered Backyard Bard productions for theme parties, community functions, schools, and the occasional backyard. These abbreviated shows serve as a gentle introduction to the best parts of the larger play, and bring the story vibrantly to life in more intimate venues with verve and brevity. Available for private events! Contact us for more information.
Our 2019 season will run from July 12 through August 17. Schedule info is at the bottom of this page. Here's our complete season calendar.
Cast
Havilah Criss
Ben Nickols
Bryce Publow
Jessica Severance
Crew
Melissa DeMers: Stage manager
Audrey Herold: Costume designer
Ken Holmes: Technical director
Conor Smith: Prop designer
Connie Sponheim: House manager
PERFORMANCE SCHEDULE:
The Merry Wives of Windsor
There are no upcoming Events at this time.
Measure for Measure
There are no upcoming Events at this time.
All dates, times, and locations subject to change