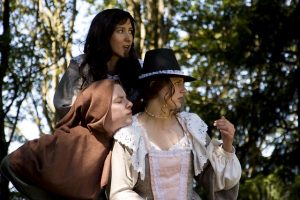 The next of our informal readings of Shakespeare plays is coming up at 6 p.m. Sunday, September 8, when we'll gather at Hattie's Hat in Ballard for As You Like It.
We decided not to do a reading in August, as turnout has been on the low side during the summer. Instead, why not check out one of our plays? August 11 is the last Sunday of our summer season, with Henry IV, part 2 at Discovery Park, The Taming of the Shrew at Lincoln Park, and a Backyard Bard double feature at Delridge Playfield. The season ends August 17.
We'll resume the monthly readings in September. Bring a script and read along, or just hang out with your fellow Shakespeare nerds. Many of us arrive early for a bite and a beverage.
The photo is from our summer production of AYLI in 2010.