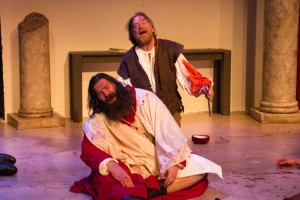 Sure and begorrah, this is the final weekend for our Hard Bard production of The Duchess of Malfi, starting with a special performance this evening, when we will turn St. Pat's Day into St. SPLAT's Day! Watch for the pot o' gold. The carnage continues with shows Friday and Saturday evenings. FREE tickets here.
It's Hard Bard directed by Tony Driscoll, so sure, there's lots of blood, but we don't mean to slight the other bodily fluids. One correspondent counted five different kinds spilled during the play, but it might actually be more depending on your definitions. And while we love the blood and guts, Hard Bard is about more than that. Here's what Facebook commenter Skye Bing Bong Stephenson had to say:
"I honestly didn't know that FREE theater could be this magically fierce and so damn ON POINT!… Beautiful and exhilarating acting that managed to Not Once be overshadowed by the gloriously gory effects, but instead used them as hilarious, exhilarating, smart, and bold tools."
Reviewer Nancy Worssam writes that GreenStage is "known by the cognoscenti as Seattle's master theatre of bloodletting" and calls The Duchess of Malfi: 
"…a jolly romp for those who love camp."
We have just three performances remaining! Don't miss the show, playing at Stage One at North Seattle College. Tickets for the St. Pat's Day show at the door, available online for future performances. Always free; donations joyfully accepted!
Go see a play; there will be blood!