Fans are showing their love for our Hard Bard production of The Duchess of Malfi directed by Tony Driscoll. Our favorite so far was posted on our Facebook page by John Strobel:
"The cast and acting were exceptional…Don't let the threat of blood and guts scare you away it was executed brilliantly…even if you don't like plays this one is EPIC."
That's what we're all about at GreenStage; attracting new people into the theater or the park, removing cost as a barrier, and telling a great story that people enjoy.
Ryan Gangle posted a review at Drama in the Hood, calling Duchess:
"lighthearted and blood-filled…a fun, humorous adaption (sic)…quite an entertaining Friday night."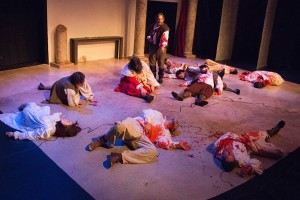 We must warn you that Gangle's review contains a spoiler about the outcome of the play, a reference to the percentage of characters who are not living by the final curtain. Spoiler alert: It's pretty high. After all, it's Hard Bard, and there will be blood.
Beylan Brown on Facebook called Duchess, "Great, bloody fun!"
Now you know! The Duchess of Malfi is playing Friday through Sunday until March 19, with a special Thursday night St. Patrick's Day edition thrown in just because. What's a good festival without Hard Bard? We're playing at Stage One theater at North Seattle College. Showtime is 7:30 each evening. Did we mention it's free? Reserve your seats now online; day of show just turn up at the door.
Sit in the front row. Wear white. Go see a play!