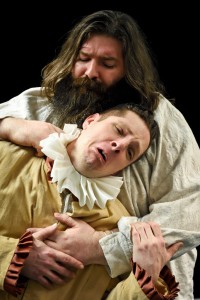 We're as excited as can be to be on the verge of opening another Hard Bard show after taking a year off! The Duchess of Malfi by John Webster, directed by Tony Driscoll, opens Feb. 26 at Stage One at North Seattle College, and runs through March 19.
With Hard Bard we believe that when the script calls for blood, more is better. Director Driscoll, who really invented our Hard Bard genre, writes about it in the program for Duchess.
"As children, we all have a dark side, a sense of morbid curiosity that makes us wonder what's going to happen next…. The Hard Bard approach reminds us that quality writing coupled with copious amounts of blood allows us to retain our childhood curiosity as we gleefully wonder, 'what's going to happen next?' We're all just a bunch of creepy little kids. It's funny, 'cause it's true."
Our cast is a delightful mix of Hard Bard veterans, actors who have worked with GreenStage for our somewhat-less-bloody summer Shakespeare in the Park shows, and some, ahem, new blood.
It's free, but get your tickets today! Shows are Friday through Sunday through March 19, with an additional Thursday show thrown in on March 17; we thought you might enjoy a little bloodfest to cap off your St. Patrick's Day.
While there's no charge, we appreciate any contributions you can give to help support the mayhem. There's a way to do that on our ticket link above, and our donate page is also open 24/7 for your convenience. We appreciate your support.
Go see a play!