Our generous audiences dig deep to support GreenStage when we pass the hat at our shows, have special fundraising events, or participate in efforts such as the Seattle Foundation's GiveBIG. (GiveBIG will be on May 3 this year, so mark your calendars. We'll remind you, too!)
Grants from governments and arts organizations are also incredibly important in helping keep all of our performances FREE, and we received two grants recently from the City of Seattle.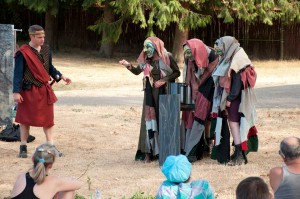 We're especially excited to receive a Put the Arts in Parks grant. These new grants, created through the Seattle Parks District established in 2014, support groups like GreenStage that are seeking to activate Seattle Parks with new and established festivals or events that promote arts and cultural participation, celebrate our diversity, build community connections, and connect with underserved communities. Our Put the Arts in Parks grant will specifically support our summer Backyard Bard program as we seek to bring performances to smaller parks in neighborhoods where there may be few, if any, performing arts opportunities. The program is a partnership between our the city's Office of Arts and Culture and Seattle Parks and Recreation, both of which are strong supporters of GreenStage.
Earlier this week Seattle Mayor Ed Murray announced that the City would be investing a total of $1.8 million in Seattle-based arts and cultural organizations through the Office of Arts & Culture's Civic Partners program. GreenStage is delighted to be a civic partner again this year.
Huge thanks to the City of Seattle, and to everyone who supports our mission to bring free theater to everyone!