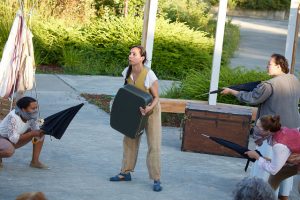 Our summer season kicked off with a bang last weekend with beautiful weather and marvelous performances. GreenStage fans showed a little love for our plays!
Danielle Rebecca Devine wrote on Facebook that, "The Three Musketeers was a delight! My 13 year old was laughing out loud through much of it. We just love Green Stage!"
Meantime Steven Goldsmith sent an email in particular praise of Graham Pilato's portrayal of Falstaff in Henry IV, part 1.
"I've enjoyed watching dozens of Falstaffs over the years, but Pilato's performance on July 14 at Seward Park embodied the character's bombast and vulnerability better than any I remember," Goldsmith wrote. "Just a powerful, extremely human presence. Bravo! Hope to see Pilato on more Seattle stages in the future. The rest of the cast performed yeoman work. Extra kudos for the great swordplay and the fun Scottish and Welsh accents! Thanks to the whole company for carrying on this tradition for the community."
Huzzah!
This week our sword-ed summer continues with performances in six neighborhoods: West Seattle, Wallingford, Rainier Valley, Burien, Magnolia, and Ballard. Check our performance calendar for all of the dates, times, and places for this weekend and the rest of our season, which runs through August 18.
It's all FREE! Go see a play!