Alexandre Dumas and Gordon Carpenter are the authors who created our summer 2018 version of The Three Musketeers.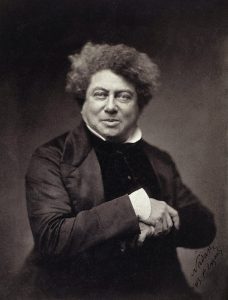 Dumas was born on July 24, 1802, in Villers-Cotterêts, France. His father, General Thomas-Alexandre Dumas Davy de la Pailleterie, took the Dumas name from his mother Marie-Cassette Dumas, a former Haitian slave. Thomas-Alexandre rose to the rank of general in Napoleon's army by the age of 31. He played a pivotal role in the French Revolutionary Wars but was imprisoned in Naples for two years and died shortly after his release. Gen. Dumas died in poverty, having fallen out of favor with Napoleon.
Though only four years old when his father died, the author Dumas infused many of his father's larger-than-life escapades into his most famous stories. A playwright first, Alexandre Dumas achieved great success with his play Henri III and His Court — literary contemporaries Victor Hugo and Alfred de Vigny attended opening night. The Three Musketeers appeared in serial from March to July of 1844. Dumas completed The Count of Monte Cristo the same year.
The published works of Alexandre Dumas total over 100,000 pages, have been translated into nearly 100 languages, adapted into nearly 200 films, and he remains one of the most beloved French authors to this day.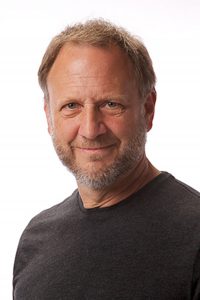 Few of us speak French, so that's where Gordon Carpenter comes in. Gordon has been an actor, fight choreographer, teacher, and director in the Northwest for decades. He has worked with Seattle Shakespeare Co., Book-It Repertory, Seattle Children's Theatre, Sound Theatre Co., Theater Schmeater, Seattle Repertory Theatre, ACT, and Montana Shakespeare in The Parks. He is currently a member of Bozeman Actors Theater, in Bozeman Montana, where this season he will be directing both Life of Galileo by Bertolt Brecht, and Tooth of Crime by Sam Shepard.
"My fascination with The Three Musketeers began in 1973, with Richard Lester's classic film version of the story. Back then, theaters let you sit through as many showings as you liked. I watched it over and over again. Since then I have been involved both as an actor and a fight choreographer in several stage productions. As good as some of these were, there was always much of the book missing. This lead me to attempt my own adaptation, and I'm afraid I too have had to leave much of the book behind. My hope is that you will enjoy this adventure and the actors undertaking it, and that at your earliest convenience you will dust off your old copy of The Three Musketeers, and read!"