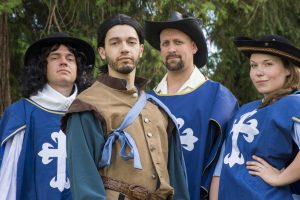 The Swashbuckling story of The Three Musketeers will delight audiences in Seattle-area parks this summer.
"We have some tremendously talented Stage combatants in Seattle and I look forward to setting them loose," says Erin Day, GreenStage artistic director who loves the intrigue and sleight of hand that Dumas brings to his tales. She has a particular fondness for The Three Musketeers.
"The characters are all huge and dynamic," Day says. "I like the juxtaposition of d'Artagnan's innocence, honor and nobility in contrast to most of the other characters; his youth and eagerness to make his way contrasted to the complacency or avarice with which others move through the world."
Filled with dueling, intrigue, clandestine love, dueling, political scheming, and dueling, The Three Musketeers has been a favorite for generations! The Musketeers have appeared on stage, the big screen, on television—even in cartoons!—and in video and board games. We think they'll play especially well outdoors in the parks this summer. En garde!
Meet the scribes of The Three Musketeers!
Cast
Chris Allen: Aramis
Bryan Arnold: Buckingham/ensemble
Hannah Coleman: Queen Anne/ensemble
Michael Crowley: Cardinal/ensemble
Anthony Duckett: Rochefort/King Louis
Joshua Holguin: Jussac/Felton/ensemble
Josh Kibbey: Bonacieux
Emily Huntingford: Constance/ensemble
Abby Nathan: Porthos
Drew Starmer: Planchett/ensemble
Ben Symons: d'Artagnan
Nicole Vernon: Milady/ensemble
Gail Wamba: Treville/ensemble
Daniel Wood: Athos
Crew
Director: Erin Day
Stage Manager: Olivia Foort
Costume Designer: Julia Evanovich
Technical Director/Set Designer: Konstantin Lazarov
Prop Designer: Gail Wamba
Fight Choreographer: Ryan Spickard
House Manager: Erin Mettling
Assistant Stage Manger: Sarah Preston
PERFORMANCE SCHEDULE:
There are no upcoming Events at this time.
All dates, times, and locations subject to change