A troupe of Women's Suffragists perform one of Shakespeare's earlier comedies as part of a raucous protest demonstration for Women's Rights. The story of strong-willed, outspoken Katherine and arrogant Petruchio's attempts to tame her into marriage at the entreaty of the men of Padua makes for rich material as Shakespeare's Shrews tackle marriage, gender roles, and social hierarchies. But what is a little social commentary without a healthy helping of laughs and a dash of love? 
"I see a woman may be made a fool,

If she had not a spirit to resist."

                                    -Katherine, Taming of the Shrew
Shakespeare wrote his plays at a time when England was experiencing a "crisis of order." During Queen Elizabeth I's reign, the privileged classes experienced anxiety and fear of the uprooting of social hierarchies based in gender, demographics, and class, and more specifically fearing female rebellion. Since the Elizabethan era, history has seen several gains for women's rights as well as the accompanying anxiety and backlash of those possessing power and privilege.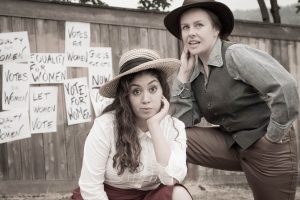 One look at the punishments associated with being declared a shrew in Elizabethan England, we come to realize how much courage it really took for Katherine to speak out against the status quo.  In the 1500's a woman accused of being a shrew, or a scold, could be punished any number of ways including being the center of a shaming ritual called "skimmington," where the "troublesome" woman is carted around town in a mock parade to the sounds of towns people banging pots and pans.  Other forms of punishment included the scold's bridle, an iron cage-like helmet that prevented her from speaking, or the dunking stool, where she was tied to a chair as an apparatus lowered her into the water.  During the women's suffrage movement, these same forms of punishment reappear as visual references in anti-suffrage cartoons, and we start to see how history has a "funny" way of repeating itself in the attempts made to silence and tame troublesome women.  The methods of silencing may have changed over the years, but the attempts remain, lest we forget incident leading to the now notoriously referenced quote "nevertheless she persisted."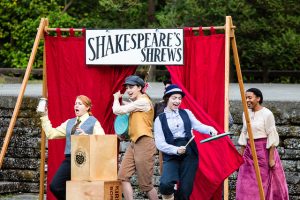 However, along with the struggle, this production (and GreenStage) revels in the successes of the movement. In 2019, we celebrate the anniversary of Congress's vote on what would become the 19th Amendment (The Action on Women's Right to Vote. 2020 will be the 100th anniversary of the certification of the amendment.) We also saw a historic number of women participate in the 116th U.S. Congress. This production is dedicated to all the outspoken women that came before us, are with us today, and will lead us into the future, who refuse to be tamed or silenced in their fight for equality. 
Our 2019 season runs from July 12 through August 17. Schedule information is below. Here's our complete season calendar.
Cast
Allison Adams: Grumio
Mary E. Brown: Baptista
MJ Daly: Tranio
Carol Gnojewski: Vincentio
Emily Huntingford: Hortensio
Jordan Kerbs: Gremio
Isis King: Lucentio
Marena Kleinpeter: Bianca
Cassandra Leon: Katherine
Caitlin Macy-Beckwith: Petruchio
Melissa Wilson: Biondello
Crew
Heather Bernadette: Stage manager
Julia Trimarco: Costume designer
Stacey Bush: Fight choreographer
Ken Holmes: Technical director
Conor Smith: Prop designer
Max Koh: House manager
PERFORMANCE SCHEDULE:
There are no upcoming Events at this time.
All dates, times, and locations subject to change