Directed by Susannah Rose Woods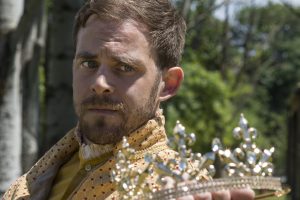 Summer 2017
Strife amongst the nobility is at the root of Richard II, both the play and the King's reign. Torn between his cousin Henry Bolingbroke, the Duke of Hereford, and Thomas Mowbray, the Duke of Norfolk, over the murder of Richard's uncle, the Duke of Gloucester, the King finds himself stuck between a rock and a hard place. Banishing both men seems the easiest way out of his difficulties, and Richard is all for an expedient solution. However, it's when Bolingbroke's father, John of Gaunt, the Duke of Lancaster, dies that the trouble really begins.
In need of funds and determined to put down the Irish uprising, Richard seizes the freshly deceased Gaunt's properties and money in order to finance his campaign. He's the king by divine right, after all, and can do what he wants. But even a divine king must face the earthly consequences of his poor decisions, which Bolingbroke proves when he returns to claim what is rightfully his: the title, lands, and all else that belonged to his father.
To borrow from another of Shakespeare's works, civil blood makes civil hands unclean in this story of a successful insurrection and the overthrow of a king in the middle of a century of war.
Richard II is the first part of a tetralogy following King Richard II and his immediate successors, Henry IV and Henry V.
Photos in the gallery below by E. Harris Photography
Director Susannah Rose Woods is the the Founding Artistic Director of Island Shakespeare Festival. She has served as Artistic Director for three theatre companies in the San Francisco Bay Area and has worked across the country with both professional and youth theatre companies, including Marin Shakespeare Company, The Curtain Theatre, Shotgun Players, TheatreWorks, and, most recently, with Seven Stages Shakespeare Company in New Hampshire. She is a professional screenwriter and playwright as well as a published poet. She was awarded a commendation from Senator Barbara Boxer for her work with youth theatre and is the recipient of a number of awards for both her writing and directing, including the Elizabeth George Foundation Grant, Humanitarian Teacher of the Year Award, the Bay Area Critics Award, and a variety of national and international awards for her screenwriting.
CAST (in alphabetical order)
Meredith Armstrong: Duchess of Gloucester / Duchess of York
Gavin Douglas: Richard II
Bob Downing: Henry Percy, Earl of Northumberland
Eric Hampton: Henry Bolingbroke
Ken Holmes: John of Gaunt, Duke of Lancaster / Bishop of Carlisle
Rebecca Lane: Queen Isabel / Earl of Salisbury
James Lynch: Bagot / Sir Stephen Scroop / Murderer
Chris MacDonald: Edmund of Langley, Duke of York
Russell Mathews: Bushy / Gardener / Exton
Joseph Moore: Lord Ross / Ensemble
Isaac Pauls: Duke of Aumerle
Daniel Sarfati: Green / Lord Willoughby / Abbot of Westminster / Murderer
Henry James Walker: Thomas Mowbray / Harry Percy (Hotspur)
PRODUCTION TEAM
Sarah Ross: Stage Manager
Assistant Stage Manager
Elizabeth Power: Costume Designer
Konstantin Lazarov: Technical Director/Set Designer
Ryan Spickard: Fight Choreographer
Gail Wamba: Prop Designer
House Manager
PROGRAM