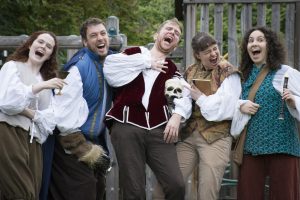 Rehearsals are well under way for GreenStage's 29th summer of FREE Shakespeare in the Park. With opening just four weeks from tomorrow, we share with you the first photos of some of our plays!
At right is this year's Backyard Bard cast: from left to right Aubrey Kaye, Luke Sayler, Benjamin Nickols, Samie Jo Johnson, and Gavrielle Lent. They'll be the players in Hamlet and A Midsummer Night's Dream, both directed by Erin Day.
Backyard Bard usually has just four actors, but this year we have five—six if you count poor Yorick—because we wanted to work a musician into the mix this season.
Backyard Bard opens July 14 and runs through August 19.
We'll share photos from Richard II and The Comedy of Errors soon!