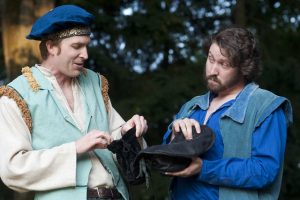 While we still have a couple of weeks left in our 2019 season, it's never too early to start planning for next year, and we have a vision for 2020.
Please mark your calendars for Sunday, October 13, 2019 when we'll hold our fall fundraiser at Georgetown Stables. The gala affair will feature a silent auction, wall of wine, great munchies and gobs of fun.
We'll have more details as the event nears. In the meantime, you can help us out. If you have an item that you would like to donate to the auction, please get in touch with us by visiting our auction page where you'll find a contact sheet and a downloadable form to let us know about your donation.
GreenStage shows are always free, but they aren't without value or cost. It's a sad fact that our expenses keep going up and up. Heck, it seems like the rent on the storage space where we keep our costumes, props, and other theater stuff goes up just about every month. So thanks in advance for your help. If you'd like to give cash our donation page is open 24/7.