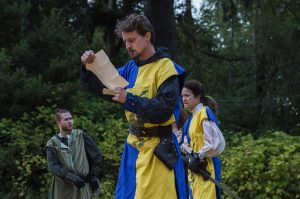 Join GreenStage company members, staff, and friends for an informal reading of Measure for Measure at 7 p.m Sunday, December 2, 2018 at Wayward Coffeehouse, 6417 Roosevelt Way NE, #104 (at the corner of 65th and Roosevelt.)
We'll begin to gather at around 6:30 to procure beverages and food, and start the reading at around 7.
It's open to all! Want to join in on the reading? Bring your own script. If you don't own one, check the library or online sites such as this one and print it out! Just want to watch and listen; that's cool, too!
We're hoping to have events such as this roughly monthly; just a good excuse for friends and Shakespeare geeks to get together. Hope to see you there!