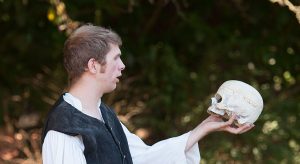 Our monthly series of informal readings of Shakespeare plays will continue in June with Hamlet. We'll meet at Hattie's Hat in Ballard for a reading to begin at 6 p.m. Sunday, June 6.
Bring a script and read along or just drop in and watch and enjoy the company of other Shakespeare nerds!
It's free, but do buy a bite and/or a beverage. Many of us get there early to do just that!
Our readings have been great fun; we hope to see you there!
The photo by Will Peterman is of Benjamin Nickols as the melancholy Dane in our 2017 Backyard Bard production of Hamlet.