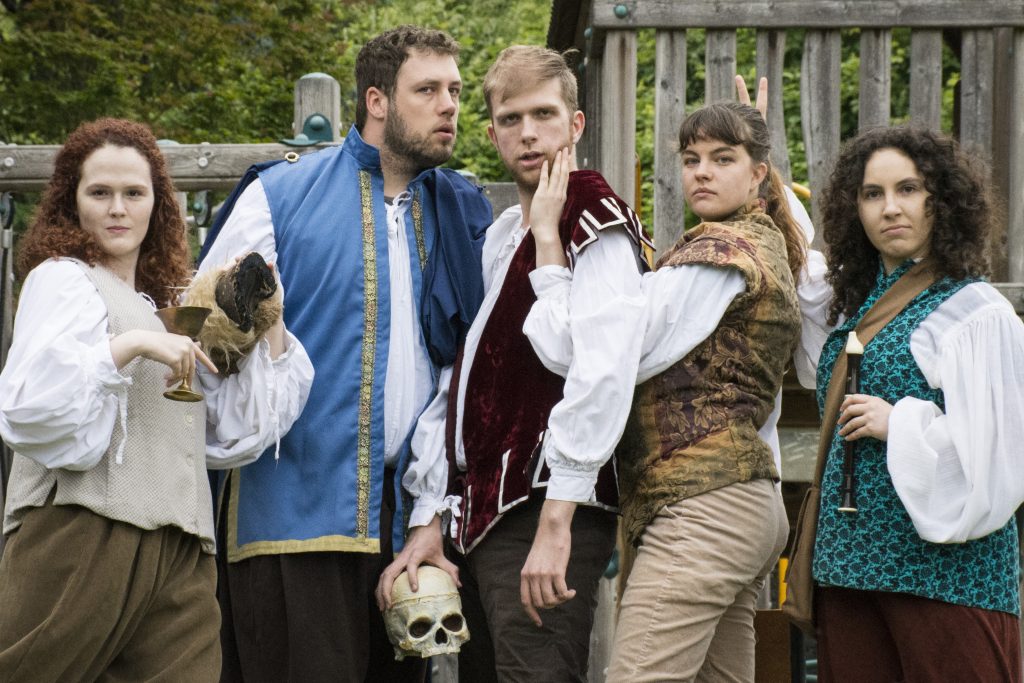 Directed by Erin Day
2017 Season
Prince Hamlet of Denmark has a lot to figure out. His father, the king, dies suddenly, and his mom, Gertrude, up and married his uncle Claudius in a big old hurry. If that wasn't suspicious enough, the king's ghost appears to Hamlet to let him know that he was murdered by his brother, who then took the throne. Hamlet isn't sure if he should trust the word of a spectre; sometimes the walking dead have ulterior motives. Hamlet needs to find out if is uncle really murdered his father, and if so, when and how to get his revenge.
In the process Hamlet makes a downright pain of himself around Elsinore, and so his uncle has him dispatched to England for a little permanent vacation. By the time Hamlet evades an intended murder and returns to Denmark there are a lot of ill feelings going around. This may end badly for a lot of characters.
Director Erin Day is GreenStage's Artistic Director, who last summer played Mistress Page in our production of The Merry Wives of Windsor. Since moving from Washington, D.C., Erin found a home in GreenStage. She has also performed with Seattle Public Theater, Theatre Babylon, Seattle Fringe Festival, The Washingtonians!, and others. Erin is a member of the Midnite Mystery Players.
CAST
Samie Jo Johnson 
Aubrey Kaye
Gavrielle Lent
Benjamin Nickols
Luke Sayler
PRODUCTION TEAM
Chelsea "Mo" Moniz: Stage Manager
Assistant Stage Manager
Costume Designer
Konstantin Lazarov: Technical Director/Set Designer
Ryan Spickard: Fight Choreographer
Gail Wamba: Prop Designer
House Manager
PROGRAM