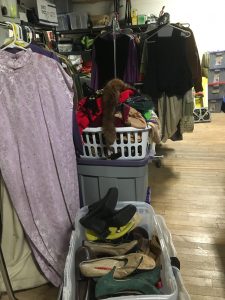 Have you ever wanted to own a fantastic Shakespeare in the Park artifact like Hamlet's doublet, Desdemona's misplaced hanky, or Lear's royal robes? You just might be able to find a gem at GreenStage's garage sale, 10 a.m. until 3 p.m. Saturday, May 18 at 18th & Union!
Our storage space is bursting at the seams, and so we're offloading some stuff in order to make room for any new stuff we create for this summer's shows. (We know, it leads to another garage sale down the road. Any excuse to get together!) Costumes, props, maybe even some vintage GreenStage swag will be on the table. It's never to early to start planning for your Halloween costume; you may score Caesar's tunic (possibly with a few holes in it), the laundry in which the Merry Wives hid Falstaff (it's been cleaned!), or Juliet's ball gown.
And shoes! We have lots of footwear that's trod forests from Arden to Birnam Wood and even Volunteer Park.
Come check it out! Proceeds will help us ramp up for the shows this summer!