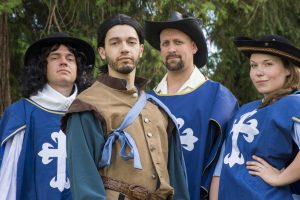 Seattle-area parks will resound with the clanging of swordplay this summer as GreenStage's production of The Three Musketeers makes the rounds.
Director Erin Day says there's a lot to love about the popular story.
"I like the juxtaposition of d'Artagnan's innocence, honor and nobility in contrast to most of the other characters; his youth and eagerness to make his way contrasted to the complacency or avarice with which others move through the world." Erin says. "Also, the strong sense of the power of unity and friendship that lies in the bond of the three Musketeers and by the end his addition. All for one indeed! And of course, Swashbuckling!"
Seattle swordsman Ryan Spickard will be the fight choreographer for the show he calls "the ultimate feather in the cap for every fight designer."
We open July 13. Go see a play!