July 13–August 18, 2018  •  Directed by Jennifer Crooks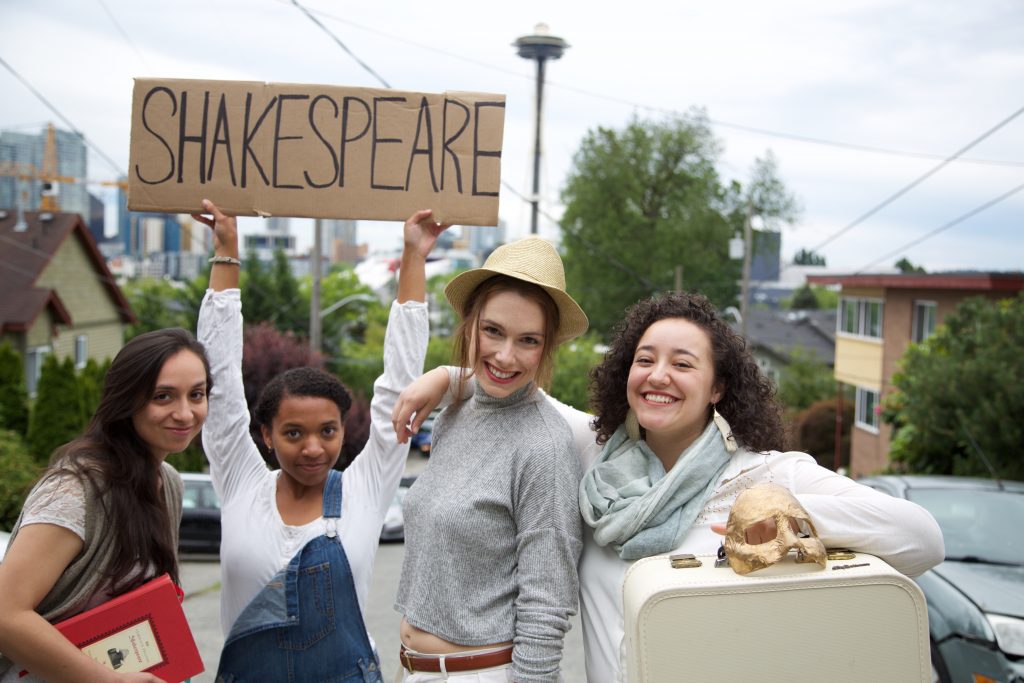 Four actors will bring all the laughter, all the adventure, and all the magic of The Two Gentlemen of Verona and The Winter's Tale to smaller parks in the greater Seattle area.  Backyard Bard performs shorter Shakespeare in the Park for smaller spaces; two one-hour productions performed by the same four actors, touring to smaller parks in and around Seattle each summer.
Since 2008, GreenStage has offered Backyard Bard productions for theme parties, community functions, schools, and the occasional backyard. These abbreviated shows serve as a gentle introduction to the best parts of the larger play, and bring the story vibrantly to life in more intimate venues with verve and brevity. Available for private events! Contact us for more information.
This summer's Backyard Bard plays couldn't be more different, and not just because The Two Gentlemen of Verona is thought to be one of Shakespeare's first plays and The Winter's Tale probably his last.
Director Jennifer Crooks finds both plays tricky. "In the era of #metoo, it's challenging to find a way to explain Proteus' actions in Two Gents, and Leontes' jealousy and treatment of his wife in Winter's Tale," Crooks says. "I'm excited to explore both plays and find the magic, adventure, and humor that will connect with today's audiences."
The Two Gentlemen of Verona
It is folly to trust a fool for love! Fickle Proteus and constant Valentine are the best of friends but, unbeknownst to Valentine, they become rivals in love for Sylvia. But wait! What of Julia, purportedly beloved of Proteus. Alas, her love is steadier than his and she disguises herself as a page to prove it.
The Winter's Tale
King Leontes is blessed with a beautiful queen, Hermione, who is expecting their baby daughter. But Leontes gets jealous of his houseguest and boyhood friend, Polixenes, and everything goes haywire. All are estranged, and spend 16 years apart before daughter Perdita and the "statuesque" Hermione are miraculously reunited again.
Cast
Jordan Kerbs
Marena Kleinpeter
Ashley Salazar
Mimi Santos

Crew
Director: Jennifer Crooks
Technical Director/Set Designer: Konstantin Lazarov
Prop Designer: Gail Wamba
Fight Choreographer: John Lynch
House Manager: Dustin Noga