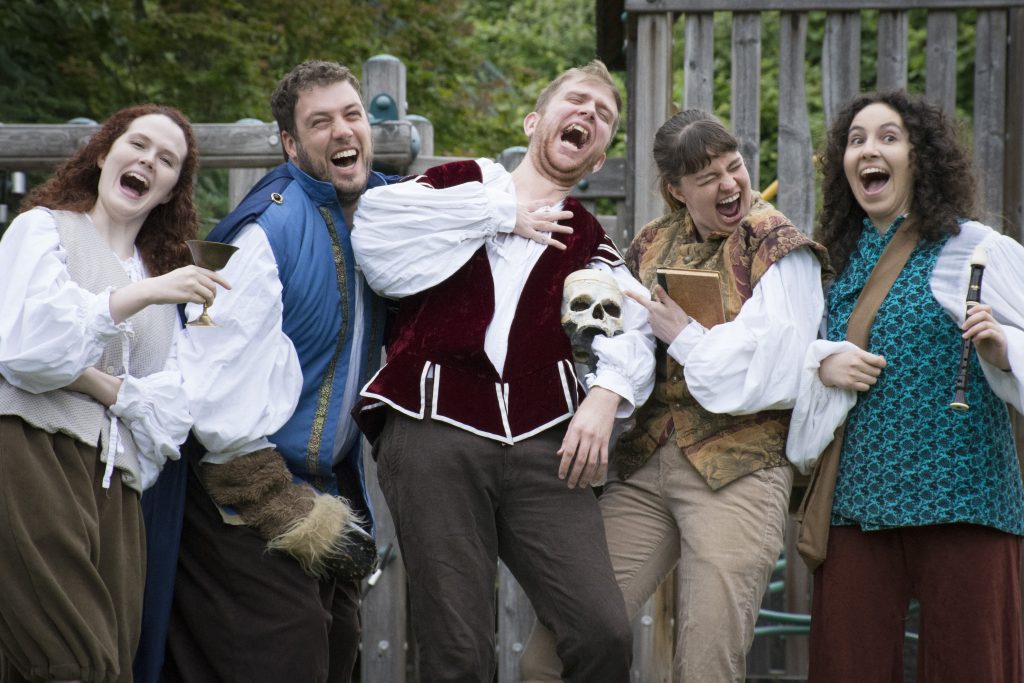 Directed by Erin Day
2017 Season
It's the eve of the nuptials of Theseus, the Duke of Athens, and Hippolyta, the former queen of the Amazons. It's party time, but some romantic arrangements get a bit out of hand.
Hermia loves Lysander, but her father, Egeus, wants her to marry Demitrius. Egeus, being a loving dad and all, reminds Theseus of an old Athenian law that says a daughter must marry who her old man says—or die. The Duke offers plan B: perhaps Hermia should just be a nun. As you might expect, neither option appeals to Hermia, and she and Lysander elope to the forest. Demetrius pursues them, and Helena chases him.
In that same forest Oberon, king of the fairies, and Titania, his queen, are headed to the wedding, but they have a little marital spat going. He enlists the help of Robin Goodfellow, Puck for short, for a little trick involving a special juice that, when applied to the eyes of the sleeping, will make them fall in love with whomever they see first upon awakening. What could go wrong? Puck has all the wrong people all ga-ga for each other, but they sort things out by morning. Perhaps it was all a dream.
Director Erin Day is GreenStage's Artistic Director, who last summer played Mistress Page in our production of The Merry Wives of Windsor. Since moving from Washington, D.C., Erin found a home in GreenStage. She has also performed with Seattle Public Theater, Theatre Babylon, Seattle Fringe Festival, The Washingtonians!, and others. Erin is a member of the Midnite Mystery Players.
CAST
Samie Jo Johnson 
Aubrey Kaye
Gavrielle Lent
Benjamin Nickols
Luke Sayler
PRODUCTION TEAM
Chelsea "Mo" Moniz: Stage Manager
Assistant Stage Manager
Costume Designer
Konstantin Lazarov: Technical Director/Set Designer
Ryan Spickard: Fight Choreographer
Gail Wamba: Prop Designer
House Manager
PROGRAM