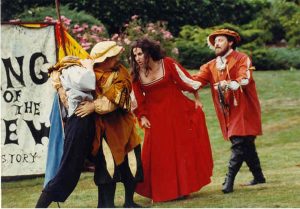 The summer of 2018 will be our thirtieth of doing free Shakespeare in the Park. We're celebrating with a look back at past years.
It all began in 1989. In our inaugural season we were known as Shakespeare Northwest and operated mainly in Pierce County. This is not to be confused with the current Shakespeare Northwest, which is based up in Skagit County and typically performs at the Seattle Outdoor Theater Festival.
Our show that first summer was The Taming of the Shrew. In addition to the touring show, our education program did a few short, free programs and libraries and schools.
Very little memorabilia exists from that first summer. We don't have a copy of the program. Heck, we don't even remember if there WAS a program! If you run across one, please send a copy our way! The photo at left is one of the few we have from that summer's performances.