GIVE BIG EXTENDED!
The Give BIG website was experiencing some serious difficulties on May 3rd due to the overwhelming generosity of donors like you! If you had difficulty donating, don't fret! Seattle Foundation has been working hard to fix problems and have extended the event until midnight, May 4th. Try the link above first, and if that doesn't work out, you can donate directly to GreenStage using the link below. If for any reason, you can still donate directly to GreenStage from our Donation Page. Thanks!
The Seattle Foundation's GiveBIG is Seattle's largest annual community-wide fundraiser, and last year it helped GreenStage raise more than $6,000 in support of our free summer plays and our educational programs for youth. This year GiveBIG will happen on May 3. It's a perfect time to support GreenStage and your other favorite nonprofit organizations; the Seattle Foundation kicks in stretch dollars, so your gift goes even further. Plus, every donation has a chance to be chosen as a "golden ticket" that means a bonus $1,000 contribution to the recipient organization.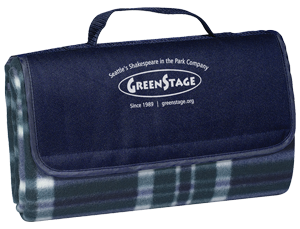 We're adding our own incentives. Each donor to GreenStage on May 3 will be entered for a chance to win a GreenStage Queen's Box Experience. The Queen's Box is the best seat in the house, up front and center, with comfy chairs and a basket of snacks, beverages, and chocolate Shakespeare coins.
Donate $100 or more and we'll thank you with your choice of a GreenStage picnic blanket or season T-Shirt.
New this year: you don't even have to wait until May 3 to GiveBIG; just head over to our GiveBig page, get a head start, and DONATE NOW.
We thank you for the support that makes our free performances possible.
Pictured: Abby Nathan and Jared Holloway-Thomas in the 2015 production of Much Ado About Nothing.