Give BIG is Wednesday, May 9!
The Seattle Foundation's annual day of community giving, GiveBIG, is coming up on May 9, 2018. It has become an important day for most of the nonprofit organizations in the area. Last year, GreenStage received more than $6,000 in donations. This year, with all the swashbuckling that will be happening on stage, we could really use a big bump to help us acquire some new swords!
We're busy working on our four FREE summer plays for the summer of 2018, and we're also gearing up for the return of our one and only Hard Bard Titus Andronicus this fall. While there is never any admission charged to attend any GreenStage show, there are still a lot of expenses. Your contributions each spring help create the costumes, build the props, print the programs, buy the chocolate Shakespeare coins, and do the zillion other things it takes to put on more than 60 performances of the Bard's fantastic plays each summer.
GiveBIG includes a new "Dollars for Change" effort this year that could mean bonus donations of $2,500 to your favorite nonprofits (such as us!); your contributions go further than usual through GiveBIG!
Schedule your contributions beginning April 26
The GiveBIG day of giving will last almost two weeks! You can schedule your donations ahead of time beginning April 26—perfect so you don't forget or if you're going to be out of town during the 24 hours of contributions on May 9. Naturally, we will still remind you—repeatedly! DONATE HERE or by clicking the GiveBIG logo above. We thank you for supporting GreenStage and your other favorite nonprofit organizations on this important day.
More incentives to GiveBIG!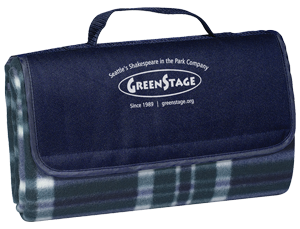 Each donor to GreenStage on May 9 will be entered for a chance to win a GreenStage Queen's Box Experience. The Queen's Box is the best seat in the house at the performance of your choice. Sit up front and center, with comfy chairs and a basket of snacks, beverages, and GreenStage chocolate coins.
Donate $100 or more and we'll thank you with your choice of a GreenStage picnic blanket or season T-Shirt.
We thank you for the support that makes our free performances possible.