The Seattle Foundation's GiveBIG is Seattle's largest annual community-wide fundraiser, and last year it helped GreenStage raise more than $6,000 in support of our free summer plays and our educational programs for youth. This year GiveBIG will happen on May 3. It's a perfect time to support GreenStage and your other favorite nonprofit organizations; the Seattle Foundation kicks in stretch dollars, so your gift goes even further. Plus, every donation has a chance to be chosen as a "golden ticket" that means a bonus $1,000 contribution to the recipient organization.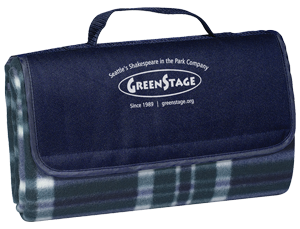 We're adding our own incentives. Each donor to GreenStage on May 3 will be entered for a chance to win a GreenStage Queen's Box Experience. The Queen's Box is the best seat in the house, up front and center, with comfy chairs and a basket of snacks, beverages, and chocolate Shakespeare coins.
Donate $100 or more and we'll thank you with your choice of a GreenStage picnic blanket or season T-Shirt.
New this year: you don't even have to wait until May 3 to GiveBIG; just head over to our GiveBig page, get a head start, and schedule your donation today.
We thank you for the support that makes our free performances possible.
---