Directed by David Gassner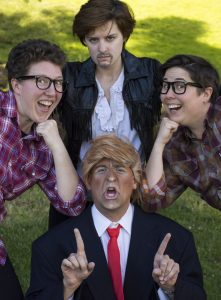 The Bard's comedy is as relevant as ever. At the center of this slapstick comedy involving two sets of identical twins separated at birth is a story of immigrants in a strange land facing expulsion and possible death at the hands of a tyrannical Duke.
Director David Gassner served for several years as the Artistic Director at Theater Schmeater, where he directed the west coast premieres of Maria/Stuart and The American Pilot, the world premiere of Mamet Schmamet!, Kvetch, and The Mandrake. Other past directing projects include Dangerous Corner, Glengarry Glen Ross (twice!), To Kill a Mockingbird, Breaking the Code, Our Town, and two weekends with 14/48. As an actor, he's appeared locally with Seattle Shakespeare Company/Wooden O, Seattle Public Theater, 14/48, Seattle Fringe Festival, and Theater Schmeater.
CAST (in alphabetical order)
Zandi Carlson: Adriana
Margaux Daniel: Merchant, Pinch, Servant
Meghan Dolbey: Antipholus of Syracuse
Natalie Gress: Antipholus of Ephesus
Danny Herter: Balthazar/Abbess
Jared Holloway-Thomas: Courtesan/Merchant
MJ Jurgensen: Dromio of Syracuse
David S. Klein: Aegeon
Samantha Miller: Luciana
Hannah Sweet: Angelo
Anne Wiltgen: Dromio of Ephesus
Daniel Wood: Duke Solinus
PRODUCTION TEAM
Emma Hagerman: Interim Stage Manager
Assistant Stage Manager
Julia Evanovich: Costume Designer
Konstantin Lazarov: Technical Director/Set Designer
Ryan Spickard: Fight Choreographer
Gail Wamba: Prop Designer
PERFORMANCE SCHEDULE
All dates, times, and locations subject to change