What does it take to be a good leader? A good father? A good son? A good human? This delightful play offers up these questions and more with no easy answers in sight.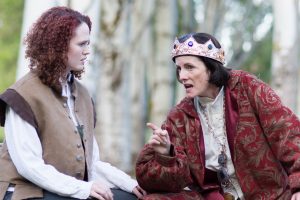 In the midst of dying and an ongoing insurrection from rebel factions, King Henry is consumed by his fear of what type of king Prince Hal will be after he passes. Tutored in the nefarious and lecherous ways by the larger than life Sir John Falstaff, will Hal be able to leave his wild past behind and be the leader a divided England needs? And at what cost? This play is a tale of two Englands, one of means and privilege and one of salty earth, and probes what happens when these two worlds collide. The stakes are high for both and as the nation shifts, clear winners and losers emerge. 
Part 2 is the third play in Shakespeare's eight-play, double-tetralogy of history plays chronicling the reigns of Richard II, Henrys IV, V and VI, and culminating with Richard III.
Our 2019 season runs from July 12 through August 17. See schedule information at the bottom of this page. Here's the complete season calendar.
Cast
Mary Murfin Bayley: Quickly
Michelle Conklin: Falstaff
Aubrey Kaye: Hal
David S. Klein: Chief Justice
Chris Martinez: Bardolph
Eleanor Moseley: King/Northumberland
Dan Ruiz Salvatura: Doll Tearsheet
Luke Sayler: Prince John
Laura Steele: Archbishop
Sean Patrick Taylor: Shallow
Emma Wilkinson: Pistol
Megan Kay Wright: Poins
Marissa Wyll: Lady Percy
Crew
Hazel Rose Gibson: Rehearsal stage manager
Elizabeth Power: Costume designer
Ryan Spickard: Fight choreographer
Ken Holmes: Technical director
Conor Smith: Prop designer
Chloe Riggins: House manager
PERFORMANCE SCHEDULE:
There are no upcoming Events at this time.
All dates, times, and locations subject to change